Meri Kirihimete,
Father and Child Trust are pleased to be attending Panmure's Santa Parade this Saturday 3rd Dec at 11am- 12noon.

We are also part of the inaugural Tamaki Toddler Day Out in the Panmure Community Hall, along with the local Men's Shed and Early Childhood Learning groups. Our stand will be inside the hall from around 12 – 3pm, helping children enjoy fun and learning, music and bubbles!
The focus also includes Talking Matters – Every child flourishing as a thinker, talker and early reader For more info: Click Talking Matters website
End of year BBQ
Our Father's Mauri Ora Circle is having it's last night and free BBQ on Wed 14th Dec from 6-8pm at the Onehunga Community Centre. Our dads and volunteers who have supported each other deserve a massive pat on the back. Father and Child may not have survived without the time and generosity of a few key fathers and local social workers. We hope to see all our supporters and families to celebrate the end of a tumultuous year, downstairs in the carpark off Lower Municipal Drive, Onehunga.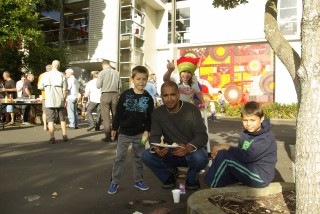 Our support offices are open 'til Dec 22 and from Jan 4th, our first father support group will be on Weds Jan 25th, 2017 – apologies for the delay, we have a birthday the week before!
As part of our recent AGM, Strategy Hui and staff get together, Father and Child Trust altered and renewed our mission/vision –
To provide all the support possible for fathers to be the most effective and engaged dads they can be, creating a happier healthier, safer future for Aotearoa.
Kia Ora for all the awhina and mauri ora!
To RSVP or for more info, please call 095251690