Special Interests
Work/Family Challenge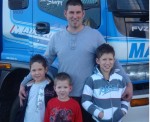 Attention vs Money: Parenting column by Harald Breiding-Buss
Truckie Dad: A truck driver's story, by Mark Grimes.
No More Fun and Games? Christchurch 'Breeze' host Grant McGrath talks to Harald Breiding-Buss and Mark Grimes about work and family.
Balancing Act: Brendon Smith on work/family balance.
A Day in the Life of a Dad: A househubby reports. By Dave Crampton
Men at Work: Work/Family issues for new dads. By Warwick Pudney
The Patriarchs And The Softies: A look at how the work/family challenge presented itself to fathers in the olden days.
Equal Parenting Opportunities: The link between work opportunities for women and obstacles for fathers.
Housedad To Stepdad: Fatherhood from all aspects.
Role Reversed Parents: New Zealand author Wendy Jones has compiled a collection of stories.
Community & Fathers
Fathers Connect Children – Brendon Smith writes about how fathers make communities tick.
A Vision for Boys: School principal Mark Richardson gives his view on what's needed for boys.
Dating Dads: Finding a new squeeze is easier said than done for solo dads, writes Johnathan Young.
Immigrant Dads: Brendon Smith investigated how some immigrant fathers fared.
Male Pre-School Teachers: They're exceptionally rare in NZ. Harald Breiding-Buss attended a forum about the issue.
Discrimination in the Air: Peter Walker takes issue with not being allowed to sit next to children on aeroplanes.
Family tree: The importance of geneology.
From here to paternity: Non traditional ways of being conceived and born.
Bigger and better: The joys of larger families.
Separation
Impact on Fathers and Kids
Children and Separation: A Help Sheet
Some Dads Can't Win: Being a non-custodial dad isn't easy – the ex gets in the way..
Destination unknown: A seprated father treaures his kids, and their imagination !
The best of times ?: Christmas time can be stressful, especially for separated Dads.
Fathers after divorce: A book review.
When things turn sour: A look at the Domestic Violence Act.
Shared parenting: The reality of sharing the duties.
The bond of blood: When parents re-marry, is blood thicker than water ?
Book review: The Big Picture: A review of Douglas Kennedy's "The Big Picture" (fiction).
Fatherless America: Do Fatherhood programmes in America go beyond a Dads wallet ?
Caring fathers: A Christchurch support group focuses on non-custodial Dads.
Both ends of the spectrum: Reflections on being a child of dicorce and a separated father.
Separation: Please reamin calm (do's and dont's).
Book Review: Men After Separation: By Ian McDonald
Family Court
One Big Barrier to Involved Fatherhood
Legally Absent: Is the Family Court biased against men – or just doing its job?
Protection order and parental alienation: An opinion piece about the workings of the Family Court.
Domestic Violence Act: Another opinion piece about family court proceedings.
Street Protests: What makes those guys angry, and is this the way to go about it?
Government Legislation
Equal before the law ?: A closer look at the Human Rights Act 1993 and how it affects fathers.
Shared Parenting Bill: An opinion piece.
Vote for Dads: What do political parties think about fathers issues ?
Dave and Goliath: Having to deal with the I.R.D. and overzealous child support collectors.
Parental leave: Legislation that could leave fathers out in the cold.
The Daddy Vote: Questions for the leaders (for the 2005 election)
Legal Matters
Protection Order: A very powerful tool of control in the hands of an abusive spouse.
Supervised Access: A Dunedin single Dad works to make access a more meaningful experience for fathers. Also views on the Domestic Violence Act.
Biological fathers: The latest chapter in the "sperm donorship" debate.
Parental equality: Does equal employment opportunites for women equate to equal parenting opportunites for men ?
International
Fatherhood Elsewhere
Fatherless America: For thousands of American non-custodial dads the choice is prison or sweatshop.
Dads Along the Nile: For the guys in egypt it's all about love and compassion.
Fathers And Change in Japan: There's more to life than work: Japanese men, too, are on the road to putting family life first.
Prison
Life Behind Bars
Breaking the Chains: When dads's in prison what becomes of the kids?
Voices From Behind Bars: Two fathers tell how they are trying to be parents from the high security wing of a NZ prison.
Conferences
Retreating fathers: On location at the Otago Father & Child Trust weekend retreat.
Fathers of this world: The International Fatherhood Conference was held in Oxford, England in 2003. Our very own co-ordinator was there.
Involve '04: A report from the Adolescent Health and Development conference.
Men's Forum: An expensive waste of time? (opinion)
Relationships
Listen and hear: Communication with your partner might be a well worn cliche, but it is still important.
Between the sheets: Just how do you maintain a good sex life after kids ?
My Valentine: What did you do on February the 14th ?
"I hate you": The sometimes delicate nature of parent-child relationships.
Constructive conflict: The art of healthy arguing.
A Woman's Work? Christchurch woman Wendy Jones has written a book about role-reversal.
Health
Absolutely mental: Postnatal depression, mental health and suicide in men.
Male suicide: It's still a problem for young men in New Zealand. An editorial
Sick of being sick: A look at one of the more tedious aspects of parenting.
The Day Everything Changed: Living with epilepsy.
P.N.D.: The impact of post natal depression on the whole family.
Under the knife: Are men getting all the facts before opting for a vasectomy ?
Staunch as: Why do guys bottle up their feelings about their kids ?
Daddy's in a coma: A remarkable story of survival.
Meningitis: Examining the facts.
Shiney happy people: The power of self esteem.
Suicide: The government approach, and is it the right one?.