Not all 'solo parents' are female—there are more than 20,000 dads in New Zealand who raise their children mostly on their own.
We know nothing about this family type. Father & Child has now made a start and released a study on fathers who raise young children entirely on their own.
By Harald Breiding-Buss
(more…)
September 1, 2011
In time for Fathers Day this year we have completed our study on fathers who raise young children with no or very little input by the children's mother. This is a usually forgotten and quite 'invisible' family type that seems to engage little with the communities they live in.
For more detail and the full report, see here: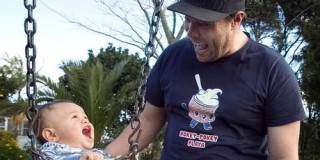 For the NZ Herald report with Auckland solo dad Daniel Philips, see
April 30, 2010
Dr Fran Vertue is supervising a student's Masters thesis at the University of Canterbury.
This study will explore the mental health and parenting practices of New Zealand parents who have separated in the past year or two.
We decided to conduct this study online, as it is convenient for most people, and helps to maintain your privacy. Read the information below, and if you're interested, please take the link to the study.
Participate in the University of Canterbury survey and you will be entered into a draw for one of three $100 vouchers (your choice of a $100 Westfield shopping voucher or a $100 fuel voucher).
Hello, I am Kirsten Ritchie from the University of Canterbury and I am researching the psychological and parenting challenges of separated parents.
I invite you to take part in this important project if you are a parent who has separated in the past year or two. The survey I am asking you to participate in will take approximately 20 minutes to complete, and you will be asked to complete one shorter follow-up survey later in the year.
The first thing we ask is for your name and email address so that we can then send you a link into our secure server where you will find the survey. You will be asked questions about yourself, your relationship, your parenting practices, and be asked about your psychological wellbeing.
Any information you provide will be strictly confidential, and will not be disclosed to any other person or organisation.
To ensure complete confidentiality, your email address and any additional characteristics that may identify you as a participant are collected only for consent, and to send out reminders for the second survey later in the year.
This information will be available only to the Principal Researcher and will be secured on a locked computer in a locked office within the Psychology Department.
Your survey information will be assigned a code number and the only people who will have access to the matching of code numbers and the email addresses of the participants are the Principal Researcher and her supervisors.
This study has been approved by the Human Ethics Committee of the University of Canterbury.
To begin participating in the survey, please go to this website (http://psycdb.canterbury.ac.nz/limesurvey) and click on "The Mental Health and Parenting Practices of Recently Separated Parents". Once you have registered your name and email address , you will be sent a secure link to more detailed information and the beginning of the survey.
Kirsten Ritchie
Principal Researcher in this project
University of Canterbury
telephone 03 364 2987 extension 3638
email khr19@uclive.ac.nz
March 19, 2010
Father's Mauri Ora Circle
Looking for support from other fathers?
Looking to lend your support to other fathers?
Just want somewhere where you can grow in confidence in your role as a father?
Maybe you are looking for a male only environment where you can talk with other fathers?
Then our Mauri Ora Father's Circle may be just what you are looking for.
Meeting every Wednesday evening from 7:00 – 9:00 pm in the Community Office 3 at the Onehunga Community Centre , 83 Church Street, (next to the library) the Fathers' Mauri Ora Circle, embodying the principles of emotional, physical, intellectual and spiritual wellbeing, is a safe place where together we can discuss any fathering issues and collectively strengthen our fathering abilities.
Watch a video about this group shown on TVNZ Marae, fathers' day 2013:
Wednesday evenings – 7-9pm downstairs in Community Office 3 at the Onehunga Community Centre.

Facilitated by our Support Worker, Brendon Smith, what is discussed is determined by those who are there. Recently we've talked about topics like
the need to inform children as soon as possible in the event of a separation
How to be an at-home dad with special needs children
deciding on the best school for your child
the role of our dads in modelling how we father our children
what happens when your ex partner wants to move to another town with your child
How to remove anger from our parenting
keeping children fit and the benefits of sport
to name just a few.
Children are welcome, though we may leave them in front of a TV with a tin of biscuits!
You are welcome to "just turn up" any Wednesday or if you would like more information feel free to call Brendon on 525 1690 or 021 892 980 or email him at auckland@fatherandchild.org.nz
The funding support of the Maungakiekie and Tamaki Community Boards (Auckland City Council) is gratefully acknowledged.


Recent discussion topics
December 2, 2009
Commission Without Clout?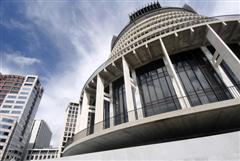 The Families Commission, set up in 2004, was part of the Labour government's coalition agreement with Peter Dunne's United Future Party.
As a cynical volunteer in the New Zealand family support network I can't help but ask: what have they achieved in the last four years? And especially: what have they achieved for fathers?
To quote from their website, their aims are to:
"Listen – identify issues by talking with families and organisations involved with them;
Research – promote, commission and publish research on issues that matter to families and
Act – encourage debate, raise awareness and advocate for positive outcomes for families."
They also say one of their roles is to work with government. Functions specified in the Families Commission Act include to "play a part in shaping government policies that promote or serve the interests of families" and to "consider any matter relating to the interests of families referred to them by any Minister of the Crown"
The Families Commission do seem to have tried to listen, by talking to family agencies, conducting surveys of parents, and using their online panel of polls and questionnaires called 'The Couch' at www.thecouch.org.nz.
Research topics so far include: parenting programmes, family violence, impact of public policy on families, family living arrangements, paid parental leave, and out-of-school care services for children. A full list is available at www.nzfamilies.org.nz. They also have a bibliography of family research from other sources.
According to their communications advisors, their most successful action was the report on out-of-school services, which was used by the Ministry of Social Development and directly affected policy.
There seems to be no completed studies on fathering, though they have recently helped conduct two 'fathering conversations', meeting of interested groups to gauge the issues. Also some research on separated parenting is ongoing and there has been a poll on fathering in 'The Couch'.
One of these polls has prompted a new piece of research, due to start in February 2009. This is a telephone survey of 1700 fathers by an independent research company.
It will investigate the changing role of fathers, attitudes towards them and what support is available. They will also canvas what support is needed by fathers.
The Families Commission intend to use the information as a basis for advocating for fathers. Whether their survey will uncover what the actual requirements are for those Kiwi men who need help is somewhat unclear, given that fathers live in a wide variety of parenting situations.
Anyway, do the Families Commission have enough 'teeth' to make a real impact on policy or social conditions?
As their policy advisor told us, they '…can't do everything, we are a relatively small organisation with a limited budget.
At present we are only offering to fund research on certain topics, including: Disabled parenting, low income and migrant families, Māori and Pasifika families, and older people's relationships."
No mention of solo dads or teen dads research, or even fathering in general. Now we have a new government, under National, who have a coalition agreement with, you guessed it, United Future.
National have agreed to: "Maintain the policy, research and advocacy role of the Families Commission whilst seeking to achieve administrative efficiencies between the operations of the Families Commission and the Office of the Children's Commissioner." (my italics).
While the Families Commission is not worried about being scaled down, it is a time of political uncertainty and therefore funding is also uncertain. It has been mooted that the Families Commission and the Commissioner for Children have overlapping roles, though they see their roles as quite separate.
So, what does the future of the Families Commission hold? According to the website, their three main areas of action at present are: family violence, work/parenting balance, and valuing parenting. Apart from their survey next year, fathering does not appear to be a major priority.
That parenting is something of value was once taken as read, but not any longer. In a Families Commission survey, they found that the most frequent bug-bear amongst parents of both genders was not being valued by society.
This has been doubly true for fathers, and probably for longer. It is more critical for fathers that this issue is addressed. The Families Commission has an ongoing 'low level campaign' called "The Best Day's Work You'll Ever Do".
They have produced posters, displayed in government offices, NGOs, some bus stops and billboards, but do not have money or impetus for more widespread campaigning such as television.
As they said, they can't do everything.
But is it enough?
It seems to this writer that they have brought to light some good ideas through their surveys but they may not have enough clout to do much with them.
Families Commission research released today Heart and Head, showed that 60% of fathers think the media portrayed them in a poor light, and half thought that society overall does not recognise their importance.
(more…)
The Families Commission is calling for four weeks paid leave for fathers with today's release of their father research report. The report showed that fathers are asking for more time with their children. (more…)
August 10, 2009
We have been approached to help recruit especially solo fathers to this study in order to make it as representative as possible of the population. See here for details. You're asked to use the study code SOLOD if that applies to you.
Fathers are called on to participate in a study on their experiences of a difficult birth of their baby. See here for more info.
July 1, 2009
Father & Child Trust is looking for fathers who have day-to-day care of at least one child eight years or under in either Christchurch or Auckland. The Trust is conducting what is believed to be the first study in New Zealand on the circumstances, issues and support of solo fathers and their young children. (more…)