Supporters and Families are welcome to celebrate another great year with Father and Child Trust in Auckland.
From 6-8pm at the Onehunga Community Centre Carpark – off Lower Municipal Drive, Wednesday 20th Dec…
we offer free food, soft drinks and huge thanks to all the dads, family members and volunteers who have contributed so much this year.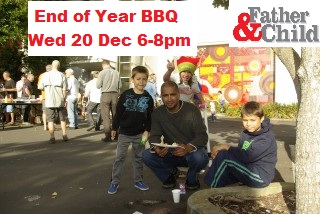 We have distributed many thousands of our Why Dads? booklets, directly supported over 140 new dads this year, delivered 90 correspondence courses on Discovering Fatherhood or Anger Management and collaborated with groups to help dads around NZ. Family Start Manukau and ManUp, the GI Family Centre and Mothers Helpers, PADA and the Health Promotion Agency have shared events, support work or resources, we are truly grateful to have such good company.
Our support work could not be done without the amazing help of volunteers like Les Rogers, David Nips and Franc Hicks in Auckland. Joseph Madut has been on placement in our office for many months, keeping the phones and office manned, helping with clients and events, assisting in hosting our first ever lecture and the University of Auckland, along with Family Start and GreatFathers.
The meat and sausages for the final evening are being donated by Simple Counselling and we acknowledge the Todd Foundation, Lotteries, Rata Foundation, Southern and Waitakere Trusts Fund plus ADHB for their support this year.
Come along and bring the whanau, celebrate another year of helping dads and families be happier, more engaged and better parents.
Many cheers, kia ora, kia kaha, kapai Christmas to all.
Our offices will be open until Friday 22nd Dec 2017 and again on January 8th 2018….
Our first Fathers Mauri Ora Circle is Weds. 17th January,
phones and emails will be monitored – Enjoy the break.