Aiming to empower children and their parents in a safe, active, play afternoon, Father and Child Trust (Onehunga) and friends have booked Sunday 4th and Tuesday 6th March, each for 1.30 – 2.30 pm.
We will provide a free Rocket Ropes Little Rocketeer course entry, plus we invite parents and carers to accompany their children.

We will provide a healthy snack at the end of the course. Our staff and volunteers, screened by us, will help if required.
Check out the venue Rocket Ropes Mangere
This is a free event plus we suggest…
Butterfly Creek –
For Butterfly Creek we offer the Education Rate of $9 per child.
Children under the age of 3 are free and 1 free adult for every 10 children going to Butterfly Creek.
All other adults at the discounted rate of $17.60 – add the train ride at $2 per person.
All of this will be available to purchase at Rocket Ropes on the day. (20 children max.)
We really need you to email us and a signed authority to get you in the list.
We'll close the list on Thursday 1st of March, thank you.
If you need anything else please let us know.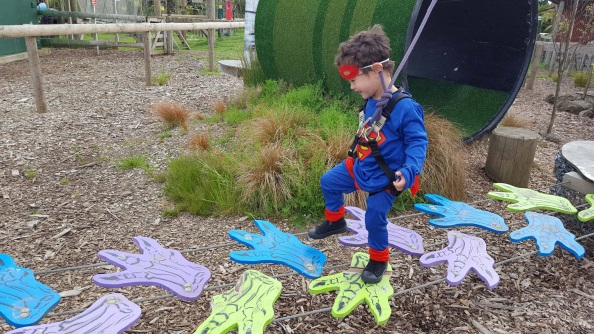 We are inviting parents and carers or small groups of children (2 – 6yrs) that experience disadvantage living in the wider Auckland region. We offer explore, exercise and enjoyment!
Bring the kids and their supporters, climb the Little Rocketeers course, tell us how it went, and enjoy a healthy snack.
Date: Sunday 4th March and Tuesday 6th March 1.30-2.30 pm
Venue: Rocket Ropes, 10 Tom Pearce Drive, Auckland Airport
Duration: 1 hour for every 30 children
Please arrive 10 min early and be ready to 'Zip In' at 1.30pm
REGISTER YOUR INTEREST NOW Places are limited
"Supporting parents and caregivers to develop their toddlers' climbing ability in a fun and safe environment."
Contact: events@fatherandchild.org.nz
ph 095251690 see also Facebook