Father and Child Trust has survived many tricky years. Funding a nationwide support network with reliable workers, trustworthy information and good administration is demanding. To have survived for 20 years and still be serving the community is a credit to many great contributions.

Our founder Harald Breiding-Buss rode out 15 years of roller coaster type cycles. His focus on paid support workers was to ensure that the quality of service was reliable. The times when money was tight, hours were reduced and services trimmed have been many, not the least in 2016!
Near the end of 2015, Father and Child staff accepted that delays or back-pays would be part of the future, five key staff agreed to continue working on a 'may be back-paid' basis, this had happened earlier in 2015 and worked out OK. Meanwhile clients kept coming and the support group went on.
On December 23rd 2015, Luke Daly called and asked to meet one of the Father and Child crew. He had been up and down over the last few years, contact issues with his child and minor health scares of his own. He really appreciated the support at the time, now his business was back up and humming, he had given bonuses to his staff and he had $1800 left. He gave this to Father and Child. That money helped us to keep the phones and website going, some went to overdue power.
Our support work in Auckland continued with Mat Scott manning the office, Russell Cochrane BSc covering many days and Michael Dawson MSc helping at times. We had our funding manager David Bartle continuing to work from Tauranga and Cliff Sheperd in Christchurch running courses.
By Easter, things were still uncertain when Luke Daly called again, this time $3,500 was surplus to his annual accounts, so Father and Child was able to pay rent, keep phones and support services open. We cannot thank Luke enough and know that he will always be remembered for those donations.
Lotteries and Todd Foundation, along with several other key funders, came through with great contributions and Father and Child Trust has established a sustainable, albeit lower staff model.
Volunteers at our events have been fantastic, weekly support nights include dads helping dads.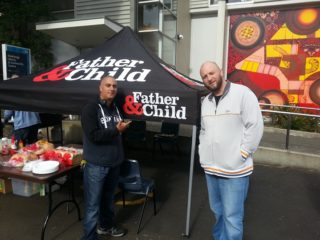 At our end of year BBQ Les Rogers found two local BBQs we could borrow, thanks Repco and Prestige Auto Services, plus Elias Alibikq, who has been a UN Volunteer in Africa, prepared all our salads and managed the BBQ, this was a great effort for an expecting dad in NZ for only 3mths.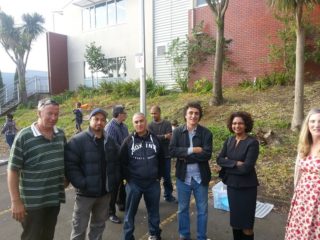 We have appointed a new Board Chairman, Mark Thomas and he hosted a hui where all the staff got together and reworked our mission and vision, objectives and values.
We really appreciate Robert Wilson holding our whare firm as a Board member and in support of our support workers. We know that next year we should finish a website upgrade and hopefully attract better funding.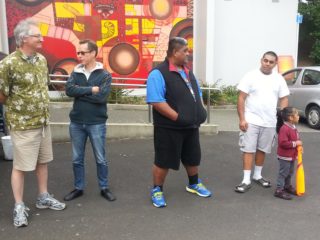 Meanwhile, Father and Child wishes to thank all the funders, volunteers, supporters and dads who have helped each other this year. Along with our faith that this support for dads is vital to our communities, you have helped save Father and Child Trust, hopefully for the last time, again!