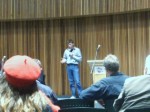 The third 'focus on fathers' week in Waitakere is in full swing and will end on Sunday, Father's Day.
The event was opened on Monday, 31 August, by Mayor Bob Harvey who felt that 'we have not supported fathers as much as we could have and should have'. 'Essentially Men' founder Rex McCann urged dads to introduce their children to other men as well, and Father & Child coordinator Harald Breiding-Buss (image left) spoke about involved fatherhood being just as important for girls as for boys.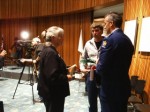 'Focus on fathers week' is the brainchild of Elaine Dyer (picture on right, talking with Harald and the Waitemata district police commander Gary Davey) from 'Violence-free Waitakere'.
The programme for the week includes seminars, parenting talks and events. For more info see www.dad4life.co.nz.