Following on from a few years of events leading up to Fathers Day, this year Family Start Manukau and Father and Child pushed the boat out even further, asking GreatFathers and ManUp to help, hosting and presenting a week for all of Auckland's Dads.
Last Monday we watched the Resolve story of Chris Crean, just as dramatic and inspiring as ever, a Dad who changed the world and criminal evidence rules, but at great cost to himself. His family will be proud, we know whanua will wrap around his pepe and partner. Blinkin onions…:(
Tuesday we hosted a lecture at Auckland University, attendance was average, but feedback was great! We were told by social work lecturers that the content was good and they would recommend us to their students if we come back next year…University of Auckland, we certainly will!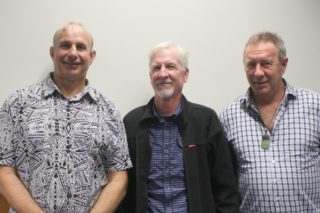 Joseph Madut, who hosted the lecture was pleased with the presentations, plus he and his wife had a baby boy last Saturday, mother and baby doing well, father struggling with lack of sleep! Family Start Manukau wrote a piece celebrating the series of events – as shown on FSM.org.nz and SpinOff posted an article written by Jai Breitnaur called Pull your weight: If there's two of you, you both need to parent….
Our Wednesday evening Fathers Mauri Ora Circle was emotional, as always. One dad who had a child taken from him, after the police placed the child with him, was very distressed. Another dad is through rehab and looking towards getting his girl, 3 into his care with the support of his parents, it seems the Grandma, who has been caring for the girl approves, but not the mum.
Thursday afternoon we had a mini Expo for Dads at Friendship House, Manukau, once again joined by GreatFathers Dave Owens and ManUp's team. We shared stories, ideas and feedback from dads, plus we gave a few passing parents our resources and offers of services we provide together.
GreatFathers encourage early dads involvement, Family Start Manukau run Dads groups in Manurewa, Papakura and Pukekohe as part of their support for parents of 0-3 yr olds, Father and Child offer information, encouragement and support for all dads, while ManUp offer serious support for dads coming back from rehab or time inside. Together, we have all bases covered.
Picnic at Ambury Park

Our fishing expedition to Orakei wharf was tempered by an easterly, but our Family Picnic/BBQ at Ambury Farm/Park was overtaken with toddlers! We had two great bouncy castles full of kids for hours, three volunteers on the BBQ, volleyball, kick a ball, fun and cute wee lambs!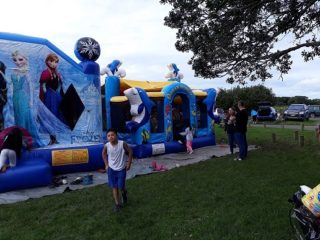 Tony TJ and the keyboards played with harmony and family songs, people danced and said what a happy day it was. Everybody loved sweet inspiration and some of the BBQ workers loved Papa was a rolling stone, even if the local oldies asked us to turn it down.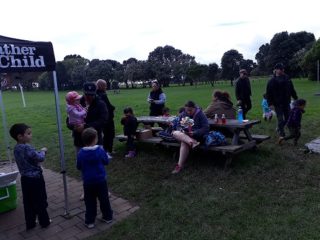 The sausages, bread, burgers, buns, nuggets and cookies finally ran out, the bouncy castles finally deflated, the sun was out and the wind was gone. Many hands made light work, especially getting cars out from the mud. Lots of back slaps, thanks and hugs, huge smiles and full hearts.