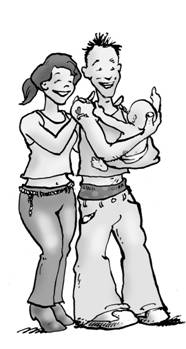 Father & Child and Waipuna Trusts in Christchurch are trialing a couples version of ante-natal and early parenting classes for teen parents.
Teen parents are notoriously missing from the otherwise well-attended and free birth preparation classes run by hospitals and other providers such as Parents Centres. Waipuna has received feedback from young mums that they feel uncomfortable amongst the older parents.
Waipuna is setting up some antenatal classes for teen mums, but is also keen to explore an approach that encourages cooperation between young mums and dads. Teenage dads are not targeted by any teenage 'parent' service provider in New Zealand despite research showing their keenness to be involved.
A trial group has been run in March, attended by both expecting couples and couples with a young baby.
Both Waipuna and Father & Child acknowledge that teenage relationships are volatile, however separation should not lead to permanent exclusion of the father from the baby's life.