Father & Child Magazine – New Babies Edition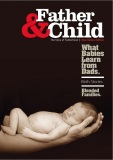 The second, free issue of our New babies Edition was distributed via the Bounty packs in Auckland, Wellington and Christchurch through 2012. It features birth stories, parenting, dads research, legal stuff and much more and was put together visually by Christchurch designers Studio Publica.
Issue one (2008) had a print run of 15,000 copies, issue 2 had an initial run of 22,000 with a further 10,000 reprinted in 2013. Further reprints or new issues are on hold, awaiting funding.
Help us make this ongoing!
The New Babies Edition says 'Welcome to Fatherhood' to new dads in a very special way at a very special time. Instead we relate other fathers' stories, their experiences with birth and early months, juggling parenting, money and relationships. There's no hidden agendas here: we don't promote a specific role for fathers or a particular approach to parenting.
Of course, it costs money to produce. We are happy to accept advertising. This is a feel-good, unique publication which reaffirms men during a very emotional time, and it would be hard to find a similar opportunity to make advertising dollars count.
Talk to us about this, or any other ways you think you could help. Phone Mat in the Auckland office (09-5251690) or email editor@fatherandchild.org.nz.