Immigrant to Emigrant
In issue 45 Christchurch Father & Child Coordinator Mark Grimes related his hopes for his family as a new immigrant from the UK. Just over a year later he concedes defeat. While the earthquakes didn't help, it was a close-nit extended family that they found they couldn't be away from.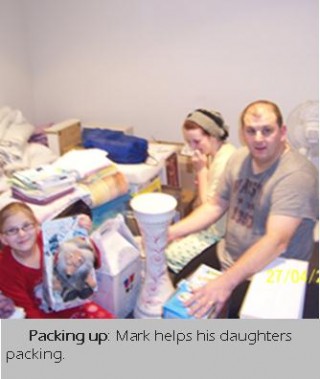 Well, it's March 2011 and I am sitting in the Christchurch office of the Father and Child Trust on Hereford Street, pretty close to the devastation known as the CBD (Central Business District) of Christchurch, reflecting on my time here in New Zealand.
15 months ago my family set off on what I can only describe as our big adventure, emigrating from the UK to the South Island of New Zealand to hopefully a better life. In reality it has turned out to be one of the most emotional journeys my family and I have ever undertaken.
On arrival, we settled into the everyday routines that most families have. My daughters Daisy (12) and Eve (9) have settled in to school enjoying new friendships', sleep overs, camps and all the activities school throws at them. However, they would often feel emotional about the UK, or "home", as they kept calling it.
Sharon and I got on with juggling work and looking after the girls, which was hard work as we had always had the support of family to help with the children when we were working. We would often Skype with family in the UK; this contact would encourage home sickness and a yearning for familiarity and the security of our support network, our family!
As winter approached Sharon, who works fulltime as a district nurse, was asked to work closer to home in Rangiora for a few weeks. This helped her to feel a little more settled; as for me I felt homesick some days, missing my parents and my older children. We always knew that homesickness would be hard for us all to deal with, and it was. I knew that Sharon was unhappy and, given the chance, she and the kids would be on the first flight back to the UK.
August landed and so did our overseas visitors. Peter and Alex arrived from the UK to spend six weeks with us. Peter is Sharon's son and Alex his partner. We were all excited because it had given a sense of familiarity and belonging back to us all, something we had missed since leaving the UK.
During the next few weeks we enjoyed doing family things, days out, swimming and even a trip to Hanmer Springs enjoying the hot pools on a winter's day. The weeks ticked by and I could see that Sharon, Daisy and Eve were not looking forward to Peter and Alex leaving us; where had the last 6 weeks gone?
Well it's the 1st of September 2010 and time to take Alex and Peter to the airport. Sharon was struggling emotionally with the thought of being apart from her son again. Daisy and Eve were crying too; once again I asked myself: was it right to take our children away from their family?
The doubts became more evident when we said our good-byes at Christchurch airport. Sharon sobbed her heart out, Daisy and Eve where down for a couple of days after Peter had gone. So I guess the answer to this question had to be 'no'!
The earthquake a few days later was surreal; it really shook us up, we were woken at 4.30am with everything around us shaking violently. Daisy and Eve woke up and started screaming, Sharon and I jumped out of bed and raced to the girls' bedroom wondering what the hell was happening; the shaking stopped without notice leaving us all dazed and frightened.
Once again we questioned whether or not it was right for us to live in New Zealand even more so after being scared to death by this earthquake. We had never experienced anything like this in the UK; Saturday the 4t of September is a date that Sharon will remember for a long time: as a District Nurse she covered Kaiapoi that weekend. She was stunned and shocked to see Kaiapoi destroyed, houses damaged and huge cracks in the roads.
Normality did return after a wee while, eventually settling back into in to the routines of daily life, work, and school.
October brought more good news and bad news, Sharon's parents had planned to visit in January, and this lifted spirits for all of the family, giving us something positive to focus upon as well as Christmas. On the downside Sharon had been asked to work in Christchurch again, and this was a move she did not want or relish.
With the onset of Christmas we enjoyed spending family time. Christmas Day on the beach was fantastic; this experience was weird in a nice way. Christmas for us is associated with cold damp weather and dark days back in the UK. It was a good experience enjoying sunny warm weather at Christmas, but it was not home and we missed family.
Happy New Year 2011 arrived.
New year, new challenges for my family. We were focused on Sharon's parents arriving from England; this gave us the optimism that some sense of normality would return to our home for a short while.
When we met Sharon's parents at the airport we could certainly see that they had aged. Although both in their 70s and in relatively good health, we could see the change that had happened over the last year. The joy that we felt having family here was overwhelming. We enjoyed 'normality' again for the next few weeks, talked about our feelings , sought opinions from Sharon's parents and tried to make sense of what to do: stay here in New Zealand or return to England.
That decision became so easy to make after the events of 22nd February 2011. Both Sharon and I work in Christchurch, Sharon in Merivale and I on Hereford Street in Linwood.
What Sharon and I experienced on that day will stay with both of us for the rest of our lives. I was thrown about the office like a rag doll and seeing the reaction on Harald's face I realized that this was different, this was worse, much worse!
I frantically tried to contact Sharon, school and home repeatedly but to no avail; the telephone network was overloaded and I could not contact my family, This freaked me out! Several minutes passed then my cell phone rang. It was Sharon; she had spoken with the kids and her parents. She said that she was hurt but not seriously, she had been thrown down stairs in work and managed to crawl to safety.
I felt helpless, sick and anxious. I just wanted to be with my family so that I could look after them. I had to travel to Merivale to collect Sharon; Normally a ten minute trip, it took nearly two hours this time.
It was only when we managed to get home that the reality of that day's event sank in; for Sharon this was the final straw that broke the camel's back. She wanted to return home more than ever. In the days after the earthquake Sharon, Daisy and Eve were very frightened and so was I. We had never experienced anything like that in our lives; the realisation about what is really important to us suddenly became more apparent. We needed to do the best for the kids and to make sure they would be safe, no matter what. At this point the homesickness that had caused so much anxiety did not seem to matter anymore.
So the decision to return to the UK was made and plans formulated in the weeks following. Flights and removal company were booked for May, the necessary arrangements made with employers in New Zealand and with schools both here and in the UK.
I actually feel quite sad at the thoughts of leaving work and New Zealand. There is so much more that I wanted to do and so much more I wanted to see. We came to live and to enjoy new experiences here in New Zealand; in essence we have experienced New Zealand at its best and at its worst. For my family to have a better life here we would need to have our extended family here as well and that is not going to happen!
Seeing Sharon, Daisy and Eve struggling to call New Zealand home became a real problem; yes, children are resilient and can adapt to most situations. However they " just want to return home". We were lucky to have had family come and visit in the last year but that just reinforced our feelings about family and living back in the UK every time they left and returned home
Our experiences of New Zealand will certainly be with us all for a long time. In short it's like I said when we got here; logistically the move was straightforward, emotionally be prepared because it really is hard to make it work if you come from a close family. You just don't have the option to fly back and forth to the UK because it costs so much; on top of that think about the earthquakes and subsequent aftershocks, and if you can live with all that, then good on you!
I know we can't and our choice is not to!