Do you want to have more effective conversations with clients to support lifestyle behaviour change?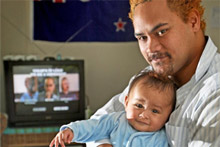 Father and Child with Guardians of Our Children and Separated Parents Trust are pleased to offer a free workshop on effective skills in talking to clients – especially around pregnancy or baby time.
On Tuesday 28th August – at the Maungakiekie Room at Onehunga Community Centre, from 9am-3.30pm.
Attendance is free but please register as numbers are limited, a koha or contribution to kai will be greatly appreciated.
About Healthy Conversation Skills
Healthy Conversation Skills Training provides health professionals with invaluable skills to support clients to make behaviour changes for a healthier lifestyle. This event will focus on Healthy Babies and be based on the Healthy Start Education Programme
Healthy Conversation Skills gives health professionals the tools to support and empower women and their families to make a plan for change that fits in with their lives.

Participants will learn:
How to create opportunities to discuss health behaviours
Different ways to approach nutrition and physical activity conversations
To use open discovery questions to better understand a client or family's situation
Techniques to listen, reflect and encourage clients to set their own goals.
Healthy Conversation Skills training is invaluable for all health professionals responsible for building relationships with pregnant women, whānau and parents of young children and is helpful at every contact – at clinics, home visits, on marae or as the opportunity arises.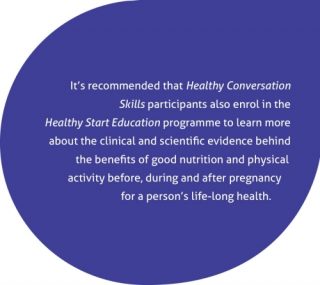 The sessions are run as a group and seek to:
Explore your current practice
Promote reflection
Engage in group problem-solving
Encourage you to think about what you'll do differently
Revisit plans in subsequent sessions to facilitate real and lasting learning
Be challenging and discover new ways of working.
Healthy Conversation Skills was originally developed by the Medical Research Council Lifecourse Epidemiology Unit at The University of Southampton. It has been adapted for use in New Zealand.
Published evaluation papers show it has been hugely successful in teaching skills which the workforce continue to use daily more than a year after training. It has also been shown to increase confidence and job satisfaction in what has traditionally been a difficult area to discuss with women and families.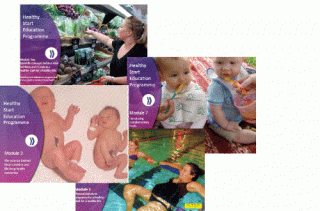 Enrolment information
Healthy Conversation Skills is available free-of-charge to all health practitioners and promoters in New Zealand.
Healthy Conversation Skills is accredited for professional development hours for:
Midwives
Nurses
GPs
It has also been embedded in Plunket's professional development framework for nurses.
Register for a workshop here…