Father's Mauri Ora Circle
Now supported by KidzNeedDadz since March 2019…
Looking for support from other fathers?
…to lend your support to other dads?
A safe place to strengthen your role as a father?
…maybe a dad only zone, where
we can talk freely?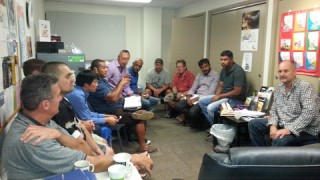 Our Father's Mauri Ora Circle may be just what you are looking for.
Meeting every Wednesday evening from 7:00 – 9:00 pm in the Community Office 3 at the Onehunga Community Centre ,
83 Church Street, (next to the library)
Fathers' Mauri Ora Circle, embodies the principles of emotional, physical, intellectual and spiritual wellbeing, offers a safe place where dads can discuss any fathering related issues.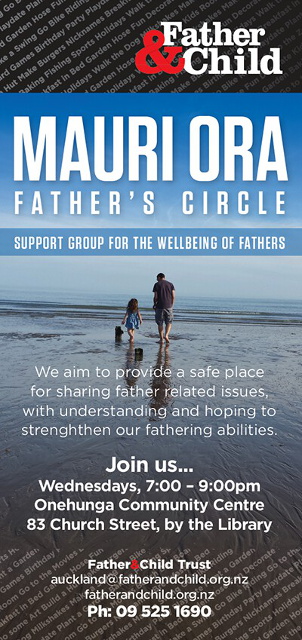 Facilitated by our Support Worker, what is discussed is determined by those who are there. Recently we've talked about topics like
the need to inform children as soon as possible in the event of a separation
How to be an at-home dad with special needs children
deciding on the best school for your child
the role of our dads in modelling how we father our children
what happens when your ex partner wants to move to another town with your child
How to remove anger from our parenting
keeping children fit and the benefits of sport
to name just a few.
Children are welcome, though we may leave them in front of a TV with a tin of biscuits!
You are welcome to "just turn up" any Wednesday or if you would like more information feel free to call on 525 1690 or 021 892 980 or email us at auckland@fatherandchild.org.nz
The funding support of the Maungakiekie and Tamaki Community Boards (Auckland City Council) is gratefully acknowledged.

Attendance is volunteer although we do accept referrals from CYFs, Probation and other agencies. Numbers have averaged around 8-10 in the last year, we have an end of year BBQ in late December and restart by the end of January every new year. Dads who bring cakes of cookies are always doubly welcome!
Mauri Ora on TV
Watch a 2017 Video about this group shown on NewsHub by Max Milyneux: