Discovering Fatherhood Correspondence Parenting Programme
Father&Child know that there are many stages in a dads evolution that he could do with information or a course.
Our expecting dads info is largely in our Why Dads? Booklets -hear about his and her hormones, see how dads can help in pregnancy !
When new dads are expecting or experiencing their first child, they are wide open to advice and information, sharing strategies on how to be the best parent to their children. At the same time, fathers are most keen to support and work with their partner as a team. Stories and examples of this research are in our New Baby Magazine…
Some dads are involved with the courts or CYF/OT and need to prove they have a good, basic understanding of parenting…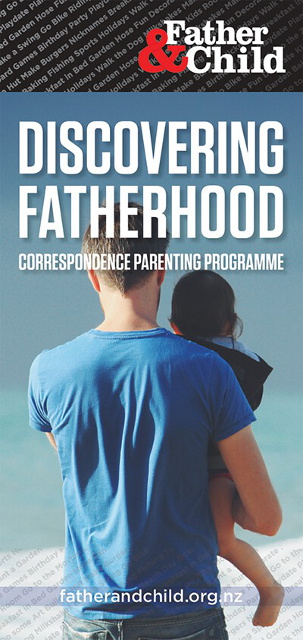 Certain courses rely on the dads living with their children – If dads are not with their children's mother, or not even seeing their children, they can still try our correspondence courses, they may also prefer to read and study independently.
Our Discovering Fatherhood Correspondence Parenting Programme has 10-modules from Baby brain development, learning through play and toddler safety, through to choosing a daycare and challenging teenagers.
Every module comes with reading material and a set of questions, all answers are checked and feedback is given.
The material is focused on information about children's development as well as parenting techniques for the different ages. Modules 1-5 apply to new babies and toddlers, We provide a certificate for five or at the end.
FEEDBACK:
"Waz premo all round Cliff str8 up thank you so very much for taken me on yr programme from the bottom of my heart you the man."
The Discovering Fatherhood Programme is free and can be printed and posted or emailed/phoned.
Anger Management Correspondence Course
Understanding causes, what we can actually do about managing our anger.
Assembled by Cliff Sheperd, BCouns. Father and Child Christchurch,
Hundreds of dads have given glowing feedback for these courses.
Module 1: Causes of Anger
Module 2: Managing Your Anger
Module 3: Improving Communication Skills
Module 4: Grief and Loss – Anger and Forgiveness
Module 5: Modern Challenges to Anger Managemnt – the Internet and phones
Module 6: Anger and Domestic Violence
Module 7: Alcohol, Drugs and Anger
Module 8: Discipline and Children – Removal of anger from parenting
FEEDBACK:
"Thank you Cliff. I know this course is working. I now have my kids asking me what they should do if things are tough at school. It's a beautiful thing to know my kids can come to me even though I'm in here and can ask me for direction. Makes me proud and I can still be a father and one that is proud."
Again we can post or email and communicate by phone to complete these courses,
beware there may be a waiting list of we are behind and cant keep up.
Father and Child also encourage reading the clauses in Section 59,
plus the new Reporting Child Abuse changes to the crimes act 2012.
Courses from other organisations
Father&Child knows that parenting courses that are run by a couple,
that have couples attending, are more effective and enable enduring change.
Courses like Triple-P, Incredible Years and Mellow Parenting, when provided to both parents, work really well.
Incredible Years Parenting Courses
Mellow Mums and Dads Parenting Courses – Ohomairangi Trust
The Parenting Place Toolbox Courses
Whanau Marama North Shore Auckland