The Balancing Act
'Work/Life Balance' has become a big catchphrase in the last few years, but initiatives designed to make workplaces fit better around families don't seem to work as well for men. As Brendon Smith argues, not just families but whole communities benefit from men being more available to children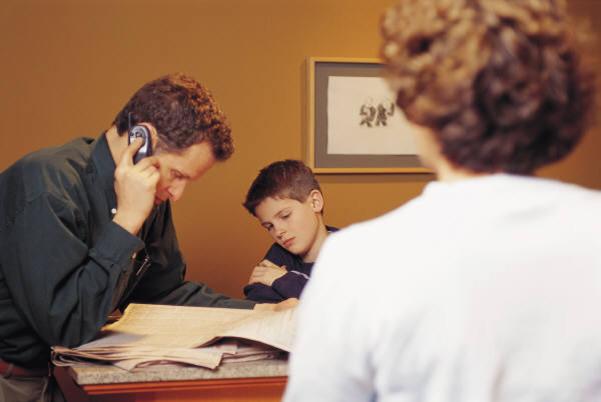 During the closing decades of last century, life changed abruptly for many fathers.
Along with rock and roll came contraception, the empowerment of women, the growth of mega cities and influence of market forces. Fathers were often required to change career, or families made to adopt another city.
Countries like New Zealand, with relatively 'protected' economies, had even more adjustments to make, so we ended up making sweeping changes, many with very short notice. As we struggled against the 1970s oil rises and 1987 share market crash, just as we now face the fallout from 2008, more families will feel the stress mount. Full time positions will become terminable contracts and overtime could be cut back at the mere hint of more recession.
Accordingly, there have been huge changes in parenting roles. A number of mothers now choose to parent on their own. Some fathers may be reluctant to fulfil their obligations, while many other Dads have become even more involved, sometimes taking over primary care or possibly as solo dads.
Between 1986 and 1996, for instance, NZ fathers who worked full time dropped from 91% to 82%, while part time working fathers increased to 15%.
Unlike mothers, largely supported by woman's rights campaigners, the fathers experiencing change have muddled along, not making too much noise. Groups like Essentially Men and Man Alive, along with Father and Child Trust, have emerged to help fix a few of these gaps and fill the information voids.
With precious little official recognition, local groups have slowly but surely grown into the current nationwide network of organisations. In many ways, you could say kiwi men and fathers are now quite proactive and successful.
Recognising the shortage of mentors the likes of Big Buddy, Project K and Changeworks have emerged, providing part time paternal alternatives and focused weekend getaway camps, all of which are in demand and seem to work.
Over 60 boys and men enjoyed the Big Buddy Day Out late last year at the Parakai hot pools, especially proud that one of their crew is national boogie boarding champion, partly due to his 'Buddy' dad's encouragement.
At the coal face, however, there is still enormous demand for capable males. Big Buddy is growing into Wellington and Christchurch, while Changeworks are actively recruiting and training facilitators for their Auckland support groups.
As highlighted by another Auckland young parents' mentoring support group (recently launched in Ellerslie by Barnados) there is still a major shortage of mentors.
Many kiwi stepdads have no doubt played their part, forming relationships and supporting children 'as their own'. Many times, the profound influence a male role model has on a child is how they expose the children to work.
Working on this article, during my regular Monday evening, radio in the background, I noticed a different young man's voice introducing most of the songs. I rang to ask what the story was, it turned out that Pat the DJ had been kind enough to bring his step son in to work with him that night.
It was during the summer holidays, so a late night shouldn't hurt the early teen. Pat had certainly wished he'd been taken into a radio studio as a child.
Pat has lived with his partner for over five years now, so he thinks now like a step dad.
Being a student radio station, the B also boast a free legal help line, Thursdays at 9am, advice provided by Geoff, a proud part time, at home dad and lawyer.
As a regular listener to the Sunday morning children's show, I also know that host is a great communicator. As Sunday was always mum's sleep in, 'old style' dads like me would avoid the TV at such an hour of the morning, while Bfm play old favourites like Flick The Little Fire Engine, Rocking rolling riding…
Not every employee gets to indulge in his childhood favourites, but I know one kiwi who has managed to resolve two lifelong dreams related to his upbringing.
Ian Baker left NZ in his early twenties to pursue a career as an airline pilot. He travelled until finding a flying job out of Adelaide and has been based around Australia ever since. Having lived in Darwin for the last ten or so years, he states, 'Crocodiles on one side of the harbour, sharks on the other'. But his real loves, after his wonderful wife Tanya, are sea diving and his beautiful baby girl Caitlin.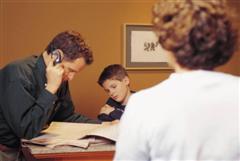 As most roles he'd had in Australia involved overnight stays, he was very keen on a new Auckland based job. It had few overnight stays and potential for easy trips home when Tanya missed her Mum near Newcastle.
Ian's former neighbours, Jim and Arlias McIntyre, were still in the area, keen to baby sit and help with temporary accommodation while he was moving back. Even his Australian employees seem to have caught the bug. They are bending rules and schedules to help Ian maintain his share of special time with Caitlin.
As Father and Child Trust ran an article on the 'Flexible Working Arrangements' legislation passed last year, it came as no surprise that we were contacted by Mindfood.com, an Australian website and magazine. Their approach was based on concerns in Australia that employees were being 'anti-family', or in a least two cases, much less than flexible in accommodating working parents.
One Perth primary school teacher was encouraged to leave his job after asking for special time out to care for a sick child in his sole care.
Is this a win over our arch neighbours? Are working parents actually treated better over here?
Do we really understand that it takes a whole community's support to raise children? Does this translate to men as well as women?
Sue Kedgley, Green MP and architect of our Flexible Working Arrangements laws, admits that the concept originally came from England. 'Changing from a 'work to rule' attitude to a more flexible approach changes the culture of the workplace. It brings more loyalty and focus, hopefully helping fathers and mothers to juggle the demands of paid work and parenting'.
We hope that after the belts are tightened, contracts reviewed and overtime set, employees ask their parent workers how they can help.
Surely, a fit and happy parent is a more motivated employee than any other, especially a keen father!