Father & Child Magazine Issue #38
Motherless children: Single fathers and their girls; Trouble at School: Boys and learning; Taxing Families: How income splitting could save you more tax than either party is promising for the election.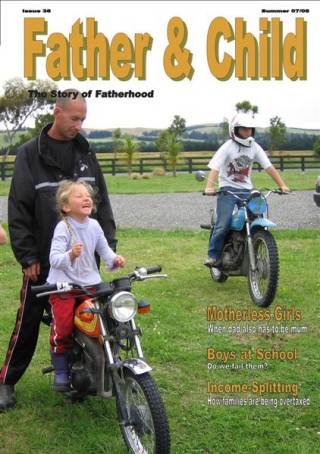 Contents:
New Life – New Dad New dad Nedlands Leatua shares the story of his son's birth and the months that followed [Not online]
Trouble at School Are boys disadvantaged at school? Brendon Smith investigated
Motherless Girls Girls growing up with dad only
Taxing Families Harald Breiding-Buss explains how IRD rips families off by not allowing Income Splitting [Not online]
How to Spy on Your Kids Jonathan Young looked into Bebo and others
Cartoon Feature Its in the Genes by Skanz
Editorial
Finding a Use For The Families Commission
When the Families Commission was set up as part of a Labour-United coalition agreement after the 2003 election, United really wanted a (more or less) independent body that gives families a voice with government. MPs and government are constantly lobbied by groups representing minorities with sometimes urgent issues, but United wanted to know how families (for them preferably mum, dad and kids) could be supported and strengthened.
The Commission was set up with a 'broad' definition of family and the mission to undertake family research which informs government. During the consultation process interviewers were also told that the Commission should try to get the parents' voice directly rather than through agencies. The 'Couch', an ongoing online survey at the Commission's web site, is it's only attempt at this which by default is neither representative nor unbiased.
Funded with about $7 million every year since 2004, it is only now that the set-up phase has been completed, according to United MP Judy Turner. The Commission started to get itself in the news – at first by making noises about domestic violence. It is involved in the current 'It's Not Ok' campaign. But domestic violence is also a big topic with the Ministry of Social Development, the Ministry of Women's Affairs, Child Youth and Family, the Office of the Children's Commissioner and a range of community and social organisations, not to mention the Police which even have their own 'Family Safety Team'. It is not clear what new the Commission had to add.
Publicity campaigns also have nothing to do with providing independent policy advice to government. To the contrary, it puts the Commission dangerously close to being just another arm of government 'educating' the community, when its job is to educate government with what the community thinks and wants.
Around the same time the Commission released a report advocating for much extended parental leave based largely on international comparisons. This, too, is not exactly new. International comparisons about parental leave arrangements were done when the current bill was drawn up, and the issue has been lobbied about, on and off, by the Greens, the Alliance, the Progressive Party, and also features in United's family policy.
According to Turner the commission is involved in several other multi-agency projects. That would be useful if it could actually add the voice of NZ mums and dads, but currently the Families Commission is simply doubling up on some of the government's work rather than break new ground.
Neither is its independence obvious—it is yet to ask government any uncomfortable questions or present it with uncomfortable research. Located in Wellington, it is likely that most of the Commission's staff will have worked for a government branch before and they will be talking mostly to other government agencies. Quite possibly the Commission is merely part of a well defined political circle in the capital which reinforces and supports itself. This is not good. Once the Commission gets associated with the government of the day it jeopardises any claim for credibility with families.
That's not what we were hoping for when the Families Commission was first set up. Try again, please.
Next: Trouble at School