Father & Child Magazine Issue #26
Fathering In The Sounds; Family Tree; Dreamtime; Diary Of A Homebirth; Book Review; Warrior Legend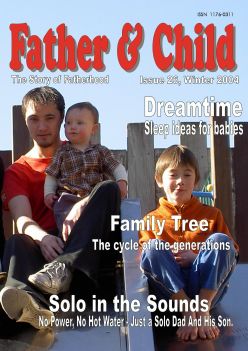 Contents
Editorial
Time To Give Dads A Hand
Last month (July) the Holland based Bernard van Leer Foundation released the report from the International Fatherhood Summit it sponsored in April last year.
Given the diversity of backgrounds and countries represented from the developing and the developed world, it was rather surprising how much common ground was found.
One of the most significant moments of the Summit for me was when two of the world's leading researchers in the field, Michael Lamb and Charlie Lewis, declared that they had changed their point of view: they had maintained throughout most of their careers that there is no specific fatherhood component in parenting-the benefits from father involvement resulted mainly from an extra helping hand from mum,and anyway father involvement was often to insignificant time-wise to have an effect.
After doing a comprehensive review of the evidence, they said they can no longer uphold this view: father involvement, especially in the early years, predicts specific outcomes that mother involvement does not predict. They conclude that "Policy makers must do more than pay lip service to [the father's] role.
On the strength of the [research] evidence presented [in this report] we challenge politicians, professionals in health, social services and education, and representatives of non-government organisations to examine the provision made for supporting fathers in families".
Another chapter in the report reviews the impact of policies and government legislation on fathers and children. Authors Graeme Russell, who in 2000 authored a comprehensive report on fatherhood commissioned by the Australian Government, and Adrienne Burgess (Fatherhood Reclaimed) urge various changes in the delivery of social and health services, especially where they involve 'vulnerable children'.
Amongst others they recommend "instituting quality standards for father-friendliness in family, children's and community services; targets to increase the number of men employed, and volunteering, in such services", and "mainstreaming father-friendliness in agency policies and practice as well as developing father specific services".
Looking at New Zealand I cannot help feeling rather disheartened by quite how much mother-focused (rather than family-focused) both our policies and practice are, and just how far we are away from meeting any of the recommendations listed in this report.
As long as this is going on, we cannot really claim to be serious about looking after our children.
Harald Breiding-Buss
Next: Fathering In The Sounds