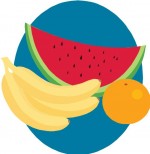 Kids have trumped their parents by showing that they actually like fruit and vegetables. Plus they understand the importance of eating them better than their parents do.
Research by Colmar-Brunton shows 93% of children understand that 5+ a day means to eat five or more servings of fruit or veges every day, yet only 68% of parents understand this message.
And while children eat fruit and veges mainly because their parents tell them to (75%), they also eat them for their taste and health benefits more than their parents do.
Responding to a question that allowed multiple answers, 68% of children said they ate fruit and veges to keep their bodies healthy (parents also 68%), 65% said they ate them because they liked the taste (parents 31%) and 57% said they ate them because they were good for them in general (parents 42%).
In a healthy hat-trick, more children also wanted fruit instead of less healthy snacks than parents realised.
When asked what they would prefer as snacks, 33% of children chose fruit over biscuits, chippies, chocolate or veges.
Only 29% of parents thought their children would choose fruit.