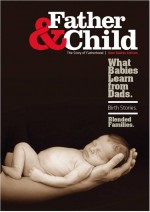 Forget about advice booklets on how to be a good dad. For the first time NZ dads celebrating the birth of a new baby will be greeted and acknowledged at the hospital by a resource produced by other fathers.
Father & Child brings you the New Babies Edition, free of charge, through the Bounty Birth Pack in hospitals in Christchurch, Auckland and Wellington!
The mag is in typical Father & Child style: a mix of factual articles and first-hand stories, although the latter provide the bulk for this special edition. What's it like to be a new dad? To add a new baby to the family? Or to start a second family? Are dads still expected to be main providers? Fathers talk about these unique experiences and describe that unique mix of joy, wonder and worries.
The design is sponsored by Christchurch-based Strategy Advertising and Design, an award-winning firm considered to be a leader in the design market. This first issue was made possible by donations from the Canterbury Community Trust, ASB Community Trust and the Lion Foundation.
This first issue has a print run of 15,000 copies, which is expected to last 6 months at current birth rates. The Trust aims to make this publication ongoing and nationwide. For this, advertising support will be needed.