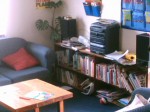 21 August 2007 marks the official date when the Father & Child Trust has been in existence as an incorporated body for 10 years. The occasion will be marked on the day of the Trust's Annual General Meeting in late June.
Father & Child Trust is based in Christchurch, but since 2006 there has also been a small home-based office in Mt Wellington, Auckland, with some funding attached to it.
The Trust evolved from a playgroup of mainly at-home fathers which started in 1994, and has worked towards better inclusion of fathers in health, social and community services ever since. The Trust funds and owns Father & Child magazine.
It was the Trust who put teenage fathers on the agenda and achieved a better recognition of these 'other' teenage parents.
The Trust has also pioneered working with fathers ante– and postnatally, and produced a 'Dads and Babies' resource for maternity health providers.
A special anniversary issue of Father & Child magazine is planned.
We produced NZ's only 'Dads and Babies Guide' and since 2003, the national 'Father and Child' magazine.
As NZ's longest established Fathers group, we now provide local support in Auckland, Wellington and Christchurch while encouraging Dads all over NZ!
Father and Child Trust are funded by Lotto and Community Grants, Private Donations and magazine subscriptions.