Fatherhood and Christianity
Churches often pride themselves on promoting family values and some denominations have very clear ideas of the roles of men and women in parenthood. However, Wesleyan Methodist Church minister, solo dad and father of four, Peter Benzie sees little difference between the mainstream and the Christian definition of a 'good father'.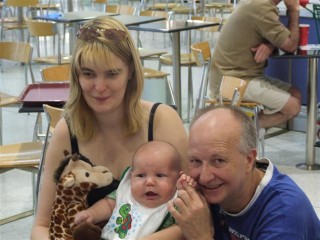 For Father's Day 2001 I received a very special present from my eldest daughter who had emigrated to Australia with her mother two years previously.
Time and cost (air fares across the Tasman were a lot more expensive than they are now) had limited the amount of face to face to contact we had had over that time. We had however spoken every week (well most weeks) by phone.
And yet there was still a nagging doubt in my mind – how did she view me? What was our relationship now that she was being raised by my ex-wife and her new husband?
Ok so maybe I was being insecure but that's how I felt and so it was with a huge amount of joy, and yes relief, that I received "Stories for a Dad's Heart" (Gray, 2000) with these words written on the "Presented to" page – Daddy ['heart' and my daughter's name] Fathers Day 2001. To this day it sits on my bedhead as one of my most treasured possessions.
That daughter is now 26 and the mother of my first grandson Noah. I don't know what drew me to it but I found myself reading again one story in the book – "Daddy Hands" – by Susan Fahncke.
Maybe it was the fact that the little boy in the story is named Noah or maybe it was the title that drew me, I don't know, but having read it again I found myself wiping away the tears as I read of a fathers love for his sick child, a story which I will use to explain what role fathers have in Christian belief today.
Susan is Noah's mother and she writes her observations and feelings as she sees her husband caring for and interacting with Noah.
Noah is deaf and we read of how his father uses touch, the feel of his voice and sign language to communicate his love for, and to comfort, his son who continues to have a fever after a number of days. We find ourselves living this couple's journey (at least I do) as they take baby Noah to the doctor and then to the hospital where he is pricked and prodded through the night causing him to scream in pain.
Any of us who have had a child can, I am sure, understand the pain and anguish, the concern and the emotion that this couple were feeling.
We feel the concern as the couple hear that Noah might have meningitis and will need a spinal tap the next day. We listen as the couple raise their voices in prayer to God with the father leading the way in asking that God heal their little boy.
And we too react with joy as the next set of test results reveal Noah has influenza A and like the parents we breathe a sigh of relief.
Our journey with this family continues as they take Noah home and we read of how he recovers slowly but surely. Finally we watch in awe as Noah tries to shape his little hands to sign "I love you" to his parents and his father gently helps him with "Daddy Hands".
It's a powerful story of the love of parents. It's a powerful story of a fathers love. It's a powerful depiction of the role of fathers in the life of their children.
In getting up in the middle of the night to nurse a crying sick baby the father shows how important that child is to him. As he takes Noah in his arms this father shows that as fathers we are to comfort our children in whatever way is appropriate.
We are told that these parents sang lullabies to their other children or used audio toys and music to comfort them. A perfectly natural way to do so today. My grandson Noah, for instance goes, to sleep with a DVD player playing lullabies and other favourite tunes.
(By the way research shows that it's good for fathers to sing to their children as they put them to bed).
But the Noah in Susan's story can't hear and so his father uses different methods to comfort his son. So we see that, not only are we to comfort our children, but we are to do so in whatever way works for that individual child.
Yes – we are to treat each child as an individual and to do what needs to be done for that child in the way that works for that child.
The father in "Daddy's Hands" had been up for a long time comforting and caring for his son yet when Susan offers to take over from him so that he can get some sleep he politely declines her offer.
Instead he continues to soothe Noah staying with him through the night.
He puts his son's needs above his own. He is there for him in this his time of need and I have no doubt that as Noah grows he will be there for him throughout his life. In the good times and the bad times, in the times when the child obeys his father, in the times when he rebels, in the times when the child gets into trouble, at all times the father is to be there for his son. So great is his love that nothing will cause him to not be there for this child that has been entrusted to him.
As it becomes clear that Noah will have to go to hospital these parents make appropriate arrangements for their other children.
This does not show a lack of compassion, care or love for these children. Rather, it shows that they realise that, as parents, they must sometimes make decision and take actions which mean they must focus on one child at a particular time. Sometimes a father has to do that – put the needs of one child above another.
That is not to say one child should always come first but rather that the time and attention given to each can vary as the child's (not the father's) needs determine.
As the scene shifts to the hospital we see another part of the father's role – reassurance. He reassures his wife, family and those in their wider circle of family and friends who are also concerned for Noah.
Susan describes him as a rock on which she and others can depend in this their time of need. That is not to say that a father must always be the one to reassure, to comfort, to be the rock but rather that there are times when it is appropriate for him to do so.
But having said that it is always his role to reassure, to comfort, to be consistent – in other words to be a rock on which his children can depend and rely at all times.
Noah's father is clearly a Christian for he goes to God in prayer for his child. In other words he takes every step necessary to find a way to help his son. He is relentless. He will do whatever is necessary to get the best for his son.
And yet in the midst of this he expresses his understanding as a Christian that Noah is entrusted to him and acknowledges his gratefulness for the awesome trust God has placed in him in doing so.
It is in the midst of this cry to God that we see another aspect of the role of the father – modelling appropriate behaviour. We see this again at the end of the story as he teaches and shows Noah how to sign "I love you" having first signed it to his wife but for now we concentrate on his emotions.
Yes this man cries as he searches for a way for his son to be healed. I venture to say that most of us who are fathers would do the same. At least we shouldn't be afraid to show emotion, to cry, to laugh for that is how our children learn that it's okay to show emotion. Indeed that is how they learn it is good to show emotion.
This leads us to the final lessons our father has for us. As he sits with his son on his lap, as he signs "I love you" to his wife and to his son, as he plays with him, as he teaches and helps him sign "I love you" he models appropriate behaviour.
This extends to showing his love for his wife and his child, telling his wife and child he loves them and taking delight in the efforts of his child as he tries to show his love for his parents. Modelling appropriate behaviour, taking delight in, and showing delight in our children, are all part of our role as fathers.
With all this in mind we gain a small, brief glimpse into the role of the father in Christian belief.
That role is no different to that of any good parent. It is to comfort, to care for, to be there for at all times, to love unconditionally, and to make decisions in the best interests of their children.
It is to reassure them, to be a rock upon which they can rely, to model and teach appropriate behaviour including showing their love for the other parent.
It is to delight in the child and to show that delight. And it is to remember that God entrusts children to them as parents for a short time during which it is their responsibility train those children in holiness so they can be in the right relationship with God both in this world and the next.
In Christian belief these are some of the roles of parents – that is of both mothers and fathers.
Next: Paternal Animals