Father & Child Magazine Issue #45
Parenticus Jellyfishicus; CYF-Agency of Last Resort; The Big O.E; Twins—Two in One Go; Quiz –How Lousy a Parent Are You; Books; Waitakere Father Support Survey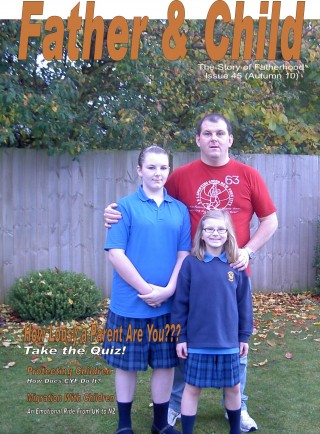 Contents
The Budget
In amongst the headline-grabbing tax changes in the budget, Social Development minister Paula Bennett emerges, surprisingly, as one of the real winners.
It is hard to believe, but the National-led government continues to outspend the Labour-led one in direct funding for social services.
The 2010 budget has a big focus on making the social sector more effective, and makes a rather substantial amount of money ($91 million over four years) available to upskill and integrate the community sector.
In the long run the government is clearly hoping to make efficiency gains in its social spending, but in the short term this means there is a real dollar commitment to helping agencies work together and work better.
We hope that this will include a look at making services more father-inclusive—after all this is where, in Father & Child's opinions, the biggest efficiency gains can be made.
The government is also making money available for teen fathers.
This may very well be the first father-specific item in any New Zealand government budget, and I'm quite thrilled about that. The money ($730,000 over four years) is specifically for educating and training present services for teen "parents" in working with teen dads.
It contains an acknowledgement that, so far, teen fathers have been 'overlooked', and it also avoids separating out teen mums and dads by setting up specific services for the dads. Full marks from me for that part. Teen mums also get a funding boost as the government acknowledges the intensive individual support model.
Hopefully the more father-friendly angle will spill over into other social service funding as well. There is a new $87m fund for family and community initiatives, which is ring-fenced, i.e. cannot go anywhere else.
The big challenge will be whether fathers groups will be invited to take part in these changes, or whether it is left to the big heavyweight organisations, who have traditionally ignored them.
Harald Breiding-Buss
Next: Parenticus Jellyfishicus