Book Review
Fatherhood Hands-On
You might be forgiven for considering a lot of books about 'being a good dad' a bit patronising, and even unrealistic. But the three Kiwi dads who wrote 'Call Me Dad' have found just the right balance between telling it as it is and supporting fathers' own choices, writes Mark Stephenson.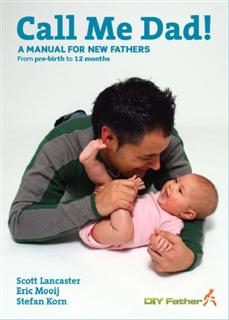 There is a new parenting book on the shelves at bookstores.
So, what's new? There must be hundreds already! Well this one is just for dads. It may well be the only one in existence, at least in New Zealand.
Written by three new fathers with recent, hands on experience, it is styled as a 'manual' for any man who is newly a father, or intending to become one.
The authors, Scott Lancaster, Eric Mooij and Stefan Korn, are all committed, active fathers but when they looked around for parenting information or support for fathers, what did they find? You guessed it – bugger-all! So they decided to write it themselves. The result is "Call Me Dad".
As they point out, there is little published information out there for fathers, and (unlike for women), our own fathers lived in a different world with different pressures.
They were still good fathers but they were unlikely to take as much day-to-day care of their youngsters as modern fathers.
Did your own father tell you hw many nappies to take on day out with your new infant?
Exactly.
The book takes you from the very beginning (well not quite the conception) to the end of the first year of your baby's life. Indeed, nearly half the book is taken up with the time from discovering your partner is pregnant to the actual birth.
From there it is divided into sections concerning: the first few days, the first 3 months, 3-6 months, and 6-12 months.
The central ethos of the book is this: YOU can be a great dad.
It is up-beat, positive and optimistic in outlook but it does not shy away from discussing the hard stuff.
Throughout the book are personal stories from several fathers about the joys, but also the problems of being a new dad, such as sleeping, feeding and changing nappies, through to sex (or lack of). These snippets ring true and provide a very human view-point, with all the difficulties but also the humour and delights of being a dad.
The authors, wisely, do not present themselves as experts, just normal guys doing the best they can for their babies.
In this spirit, they discuss many political issues such as breast v. bottle feeding, cloth v.
disposable nappies, maternity care, immunisation, etc, but they refrain from taking sides in the debate.
Their attitude is that parents should inform themselves and make their own decision based on what is best for the infant. The role of the book is to support fathers, whatever their parenting style, and this is one of its main strengths.
"Call Me Dad" covers just about everything: sleeping, feeding solids, nappy changing, toys, illness worries, post natal depression, sudden infant death syndrome, development and even exercises to stimulate your baby's potential at all the different stages.
There are many things the book does very well. It is very informative. Anyone who follows the suggestions in the pre-birth sections will be about as prepared for fatherhood as anyone can be, certainly on a practical level.
The lists include: what equipment to buy, change tables etc, items for the bedroom, clothes to take to the hospital, what to look for in a buggy or stroller, etc. It is all important stuff, though I did wonder what a man who is not yet a father would think of all the detail.
The emotional changes are covered well at every stage, with personal insight and humour.
The photographs are a great back-drop for this as they show the same dads going through the process from finding out about the pregnancy to holding the baby to changing nappies and playing with the older infant. The images are mainly of excellent quality and often amusing.
There are some superb shots of Eric Mooij bathing and bonding with his newborn daughter that add an inspirational element for new fathers.
Scott Lancaster is founder of DIYfather as well as being a Stay At Home Dad (SAHD). The other two authors work in IT and business.
This shows in the book as they are clearly switched-on, well-organised, business-savvy guys. "Call Me Dad" has filled a market niche and is likely to be commercially successful. The authors are positive, well-informed professionals. They even cover preparations such as making a will, and life insurance.
The book also shows that they are totally committed and loving parents to their children. This is wonderful to see, and in print too. They have made fatherhood a very positive thing.
I would recommend this book for anyone who has just become a father or is about to be a new dad.