100 Days
Father & Child's new Christchurch support worker Ross Elliott talks to Harald Breiding-Buss about being a dad and his first few months in office helping others.
There's not many jobs in New Zealand where you can be a "professional dad", and the Support Worker position at Father & Child in Christchurch was probably the first one in New Zealand when it was created back in 1998.
Even now the job is unique. In his first hundred or so days since he took over in April this year, Ross Elliott has worked with a large variety of fathers, both with and without partners.
Often they are men that as a society we barely acknowledge exist, such as the 17 year old about to take full care of his baby.
While some of it involves nothing more than a friendly conversation with, for example, a solo dad under a bit of stress, Ross has also had his fair share of uncomfortable situations.
Just last week he received a call from a rather distressed WINZ case manager who had a young man in her office who was covered in bruises and crying after having received a beating from his partner.
Ross is philosophical about all this: "Just the fact that you are helping other guys enjoy fatherhood is great", he says, "It's really a state of mind. You can have problems, but you can still enjoy fatherhood."
Being able to fit the job around his 2 year old daughter was a big part in applying for the job.
"I could completely relate to it", he says, "I had already gone through a couple of years not knowing anything about fatherhood, making it up as I went along. I probably should have looked a bit harder [for support], because you just assume there's nothing for dads."
But then there was.
He had a bit of a rough start to fatherhood himself. His partner, Michelle, was told that it was unlikely she could carry a baby to full term, and as a result a part of Ross didn't really expect to end up with a baby at all.
At the time he was working in Australia as an outdoor educator mainly for school-age kids. He was expecting to be home for the birth, but his daughter had other plans. She arrived seven weeks early.
Ross only learned that he had become a dad when his partner's mother called to tell him. He booked a flight to Christchurch for as soon as he could get away, and laid eyes on his daughter for the first time about 48 hours later.
"I just felt I had to be there', he says. "I never wanted to not be around, even though she wasn't planned."
They named her Xanthe, and initially she was not given the best chances of survival.
Ross says that they rate premature babies on a scale from one to ten, and Xanthe scored only a three. Michelle was not in too good a state either, having required blood transfusions and ending up in intensive care after the birth.
Xanthe improved rapidly, however, and to Ross her survival is nothing short of a miracle.
"I just felt so relieved. And very happy about the whole miracle."
He stayed in Christchurch for the four weeks Xanthe was in the neonatal unit and for another two weeks after, before he flew back to Australia "just to wind everything up".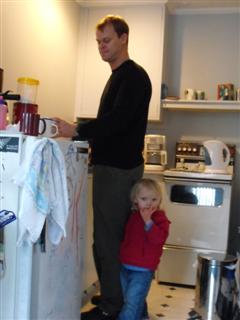 From then on everything else in his life became secondary to his daughter. Although he and Michelle split up Ross has plenty of time and input with Xanthe, now two years old. Every now and then they still all have dinner together, but for the most part he looks after her for three days a week.
Although he had this first child well in his thirties he says he had always intended to start a family.
"I'm from a big family myself, I'm one of eight. I just chose a lifestyle with a lot of travelling and outdoor work that didn't go well with it, so it just never happened."
His vision for his daughter?
"Probably like every parent I just want her to be happy and safe."
I asked whether the trauma of her arrival has brought out the protective side in him maybe more than in other dads.
"Yes, maybe," he says," but I try hard not to overreact. I don't want to deny her experiences because of safety, but I want her to be as safe as can be."
As a keen cyclist and former cycle tour guide, Ross lets Xanthe ride with him in her special seat, for example.
"She is really easy as a child", he says of her, and she is often with him at work at Father & Child. In fact, she even accompanied him to the job interview. There couldn't be a clearer message about his priorities.
Ross has already started to put some thought into schools and would like to find one that has a holistic approach to education rather than just an academic one.
Amongst all the happy bonding, there are some challenges as well. Xanthe is a two-year old, after all.
"She does get fixated on stuff. Learning about my own reaction to things is probably the most challenging for me."
This brings the perspective of parenting a preschooler back to the Trust, as the children of most of the other staff and Board members have been approaching, or reaching, teenagehood.
Next: A Lifeline For Babies