A Day in the Life of a Dad
Known as At-Home Dads some fathers have taken on the lion's share of childrearing responsibilities. Wellington dad and part-time student Dave Crampton is one of them. He describes a typical day in his life with 3 year old Sophie and 5 year old Joel.
It's the 6 am alarm ring, five hours after hitting the sack after studying politics the previous evening. Time to say goodbye to my working wife shortly and go back to sleep.
I wish. I have to check the e-mails and the politics pages of the papers, do a blog post on my current events blog before being faced with the kids' open mouths.
They call me a stay-at–home dad. Except I don't stay home – my social life consists of hanging out with other dads' wives while I look after two children as I enter my third year of extramural study.
The Internet session finished, Miss just-turned–three has dressed herself and Master nearly-turned-six has arranged a TV session with his sister, but has no idea what is on.
It's TV and that's all that matters to Joel and Sophie. The wife would be horrified. I have exactly half an hour to get out the door. I quickly turn off the TV and get breakfast.
The washing machine is whirring while we eat, then I get dressed and make the lunches – at the same time.
It's supposed to rain today, so I`d better get the clothes out before I leave. A short while later the kids' teeth are done, face washed, hats on, rates bill in hand as it's due this week, ready to walk out the door – and then Sophie decides to do a wee on the carpet and a poo in her undies before getting into her buggy.
I discover undies are designed to catch poos better than wees.
After a quick change and a bit of a clean up it's out the door. It's only then I realised I had forgotten to have a berocca, a coffee or a shave – and I have no deodorant on. Today is Monday and that means it is playgroup morning at the local church.
It's three hours of kiddy fun at 16.66 cents an hour. Thankfully I did change my shirt, so hopefully the ladies at the playgroup won't think I stink.
The busiest time of the day has ended, and my wife has just started work. She works two jobs – both as receptionists, one five mornings a week as an office temp in the central city and another as a medical centre receptionist four afternoon/evenings a week, including weekends. She`s busy too – particularly on Thursdays and Fridays when she works both jobs.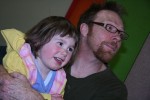 I arrive at the playgroup at 9:30 am and, being the coffee junkie I am, I get my first weak cuppa, so just as well it is free.
Instant coffee in hand, I settle down to play with my daughter, encourage her to mix with the other kids and chat to the mums—while ensuring the yellow liquid stuff doesn't leak out of Sophie's undies again.
Back home it is time for a 5-10 minute check of the e-mails, blogs and Facebook while Sophie is having a quick drink and snack – and then it's time to get lunch ready. It hasn't rained yet so the clothes are already dry.
Time to fold them up and put them away – but only after feeding Sophie. She wants spaghetti every single day, but she's not getting it today.
Then it's dishes time and washing load II before the wife gets home to assess the situation and pick up Joel – before starting her second job at 4pm.
Typical timing, Miss just-turned-three is asleep, and Master nearly -turned six has proudly told me that he got the spelling prize at school and has drawn a cool rocket ship picture. He gets five points, a high five and a big hug.
The picture goes on the wall. Yep, I`m proud of my kids.
Time to get some afternoon tea and get tea prepared before 4pm when the kids watch SpongeBob Squarepants. That's when I hit the Internet again and have my first REAL cup of coffee. At 4:30pm the telly is off.
I thought about studying but it doesn't work – especially if Sophie wees on the couch or demands assistance in getting her tiger suit on RIGHT NOW!!.
After a hassle-free tea it's the bedtime routine. That goes relatively smoothly and by 8pm the kids are in bed and in 30 minutes my better half will be home.
I hit the books and the coffee to study Political Theory.
I am now a student and wish I had that Berocca as I'm getting tired. At 1 am the e-mails are checked and responded to and it's time for bed to do it all again five hours later.
I really must get that childcare sorted sometime so I can study during the day. Perhaps we could pay one of the playgroup mums to do it like we did last year – after all Miss just-turned-three has just turned three and is supposed to be going to kindy.
But there's a bit of a waiting list at the local kindy so we may have to look at 20 hours (almost) free childcare.
Next: Revisiting Childcare