Father & Child Magazine Issue #32
In praise of cloth nappies; So close… yet so far; Section 59 exposed; What are we doing today?; A very slow recovery; Book Review: Men After Seperation; Discrimination-a Four letter word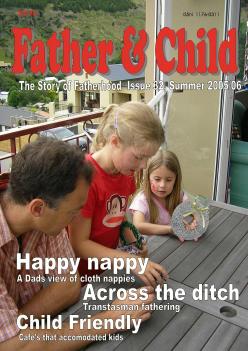 Contents
Cloth Nappies Rule
In this age of instant this and disposable that, Mark Nixon writes about the joys of cloth nappies.
So Close… Yet So Far
Two free concert tickets. What could be better than that? Brendon Smith tells of a workmate who hasn't lost sight of the important things in life.
What are we doing today?
Affordable cafes that accommodate children are sometimes hard to come by. We look at the best ones in Wellington and Christchurch.
Editioral
Caring For Our Kids
Following on from the "Take the pressure down" article in the last issue, it's interesting to read media reports that pre-school child care facilities in Auckland are bursting at the seams.
Long waiting lists and insatiable demand for services is evident up and down the country.
Not only that, but the average length of time that parents are requesting is spiraling upwards, leading to child care centres needing to review the actual length of sessions times being offered. This inevitably leads to larger classes, less time for each child, and burnt out child care workers.
Undoubtedly, financial pressures on families is partly responsible for the explosion in demand for these services, as both parents work to try and make ends meet. The government has made it fairly clear that they want mothers to (re)enter the workforce as soon as possible after giving birth, judging by their "Working for Families" package. According to the blurb, the initiative is designed to make it easier to work and raise a family.
The less publicised factor in the huge growth of child care centres, is parents who "want the best" for their offspring, and are keen to enter their children into learning environments as soon as possible. The evidence of this is seen at school level, where parents scramble to enrol their children at the most exclusive of private schools.
Half of all five year olds are turned away from the 'best' schools each year, and the desire to get into certain school zones is always reflected in the buoyancy of certain exclusive real estate markets.
This rat race for under fives has got to such a stage, where Clare Freeborn of "Mainly Kids" says she advises people to enrol their kids even before they are born!
I can go along with the idea of singing and talking to your baby "in utero", but the question must be asked, "how young is too young?" It would be a good question for all parents to ponder over Christmas and New Year, as we strive for a relaxing and low-stress festive season.
Hugh Joughin
Next: Cloth Nappies Rule