A Truckie And His Sons
Working and being a good dad don't always mix well. In our new series, Father & Child looks at how dads manage to juggle their different jobs with family life. Mark Grimes spoke with Mainfreight truck driver Ben Sharp.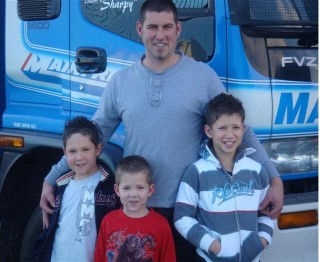 Ben Sharp, father to three boys and owner/driver at Mainfreight in Christchurch shares his thoughts on how he is trying to get the work and family life balance right when working full time and often spending long days away from home.
"It's not an easy job being a truck driver especially when you are the owner as well", says Ben.
"My relationship with truck driving started 15 years back as a courier. I would often work 14 hour days and weekends, which is not good if you have a wife and kids!
"Working those long hours prompted me to look for another job so that I could spend more time with my family.
"I knew I was missing out on stuff the kids were doing!"
Five years ago, Ben changed to work for Mainfreight. "Yes, the hours are still long here but not as long as they used to be. I feel that I am really lucky. Mainfreight is family-friendly and will supply a relief driver to cover for me if and when I need time away or for family emergencies."
As an owner/driver Ben is self-employed even though all his business comes through Mainfreight and his truck sports their company colours and signage.
"Owning my own business does put pressure on family life. You need to be at work to earn the dollars, and I also want to be home to support my children and wife Amanda, who does all of the parenting whilst I am at work."
His philosophy around parenting is sharing it as much as possible, even if you are also the main income earner.
"It's not easy being a parent, just ask my wife", he says. "She will give you a straight answer!
"The best way is to share that responsibility, work as a team. That's why I try to take the pressure off Amanda when I get home from work by helping with dinner, kids' homework and then getting the boys ready for bed.
I can see the sense of relief in her face when I take over the parenting, giving her some time to chill out! There are times when after 12 hours at work and I just want to relax, but so does Amanda after taking care of the boys all day."
That almost sounds like "superdad", but Ben contends he has it good:
"My job is difficult with long hours but I still reckon I get the better deal because I know its hard being a fulltime parent especially with three children to look after. We have three boys Liam (9), Oli (7) and Flynn (6) and they are all growing up pretty quick!
"We are no different than most families; we just get on with everyday life. However, we also know that time is precious and you can't get time back. When it's gone, it's gone!
"I have a pretty close relationship with my boys and, yes, it's hard to get that balance right when working 12 hours a day, but not impossible!
"However, one of my biggest regrets is not being able to spend more time with my family because of work; I have in the past missed out on some important milestones and it's not a good feeling."
Like on so many families, weekends are dad-days for the kids.
"It's a real treat when the boys ask me to make pancakes for breakfast at the weekend, my specialty!
"I tell the boys not to tell mum", Ben says with a huge grin!
"I really enjoy the weekends with my family; we will often ride our bikes, go to the park and do silly things, the boys really enjoying 'mucking' around.
"When we spend time together they will often ask me for advice, give me a hug and tell me that they love me, I just know this time is so special!
"That's why I feel it's important to do things as a family when we do have the time."
Still, with the long hours away, Ben still wonders sometimes.
"Am I a good Dad? I think I am!
" Being a Dad can be a challenge and very rewarding as well, providing you put the effort in.
"When I was a child my parents guided and supported me through life and that was good.
My dad was disabled but that didn`t stop him from supporting and encouraging me, he was always there, no matter what.
"He put the effort in with me and I want my children to benefit and enjoy the same sort of relationship that I had.
"Getting that balance right between work and life still remains a challenge. I know that my boys need their dad so I won't stop trying!"