Please Help Father and Child
Father and Child Trust offer information, encouragement and support for all dads. From expecting dads to new dads, solo dads, teen dads, CYFs/OT or shared care dads, all may need specialist help in their role as a father.
We are eternally grateful to the Funders and Supporters we survive with, but we get no government or MSD money, almost no DHB money and nothing from the law society either (!) There are around 60,000 births in NZ every year, around 4% of new dads need PND/PMH support, nobody else does this. Many more dads have relationship adjustment or parenting queries, if sorted early, they can avoid CYFs/OT or separation complications.
In Auckland, we have never been able to keep up with demand. in 2017 we helped 173 dads directly, many in crisis when they find us. We supplied 2500 'Why Dads?' to Auckland DHB, and 10,000 New Dads, How are you? flyers. We are currently out of all these recources. In 2016 our staff worked on for 6 months while nobody got paid. Thanks so much to Todd Foundation who saved us, along with the clients who contributed cash for our power, rent and phone bills.

We really appreciate Volunteer help in data entry, events or helping 'man' the office. We have survived with student placements and volunteers for most of the last three years. We need lots of help around the week of Fathers Day as we co-host several events with Family Success Matters Manukau.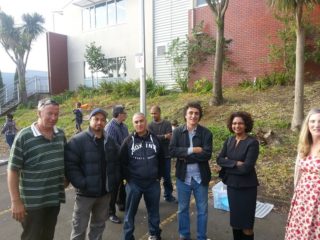 Our clients are generous in time and acknowledgment, but many say – why aren't you guys government funded..? ie like the many millions Womens Crisis and Refuge charities get, we have no answer. We apply for over a hundred funders every year and get around 11-13% of what we hope for. Many dads don't get phoned back for days or wait weeks for our correspondence course modules. Our waiting list is our biggest worry, many dads only reach out for help once.
Many children and some mothers will benefit immensely, hopefully be happier.
Volunteer: email info@fatherandchild.org.nz